6 European Festivals To Cure Your Coachella Burnout
While Coachella has proven that about 99% of us love a good festival, it's no surprise that even the most festival-ready bloggers now envy those not having to go through the laborious customs of attending the U.S.'s most prominent musical weekend: hotel booking, pre- and after party invite acquisition, shopping for an iconic outfit that hopefully 100 other people will be wearing, planning how to accessorize without appropriating other cultures, reaching the end of the internet to find a jacked-up off-market ticket on Craigslist only to realize your friends spent their tax refunds on Artist passes through a promoter friend, finding a friend with more than 1 cell phone bar to lead external communications for group meet-ups, holding set time strategy meetings during which you'll fight to convince your Odesza-obsessed friend that waiting 9 hours for a good spot at Beyonce is way more important than him manifesting her Futurebass dreams at the Sahara tent, taking just enough photos to properly document how much fun you had without impeding on your actual fun-having, and - best of all - training your internal blinders to block deluge of commercial advertising that subtly sneaks into your consciousness through sponsored hashtags, branded vodka tents, and pictures of Instagram models advertising magnetically-charged face stickers that balance their energies, just to convince you that you go the festival prep ALL wrong.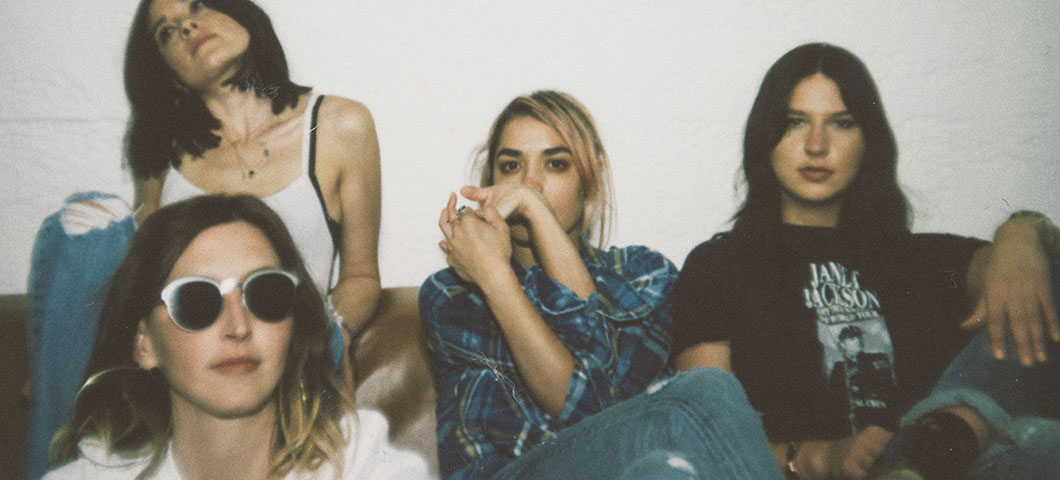 Spotted: Warpaint, Sofi Tukker, and our intern Sophia in the Étienne Marcel sunglasses at Coachella.
Meanwhile, in Europe, the festival industry is more fragmented - and that's a good thing. With countless musical gatherings across the entire continent to choose from, they tend to be smaller less commercialized than the machine that Coachella's become, thus drawing a more local crowd that's there for the music and good times. The diversity of options means that each strives to deliver differentiated experiences though more focused lineups, thematic programming, unusual landscapes, and novel attractions. What's more, the lineups boast a variety of artists that differ from the repetitious headliners that tour the U.S. each year, and typically cost a fraction of the price for a pass. So if you thought your festival days were over - it's time to grab your most festival-worthy sunglasses, pack your bags, and head to a where you can truly focus on the fun stuff.
Going to Bestival looks like transcending space and time to be frozen in some ageless, past-meets-present, Alice in Wonderland-esque world of colorful harlequins, circus charades and bounce houses. Though it's closest to Coachella-size out of any festival on this list, it's also the most festive and visually stunning, so let your freak flag fly with the wildest costumes your imagination allows to immerse yourself in the scene.
Headliners & Highlights: M.I.A, Rudimental, Mark Ronson, London Grammar, Bicep, Mabel, Jorja Smith, Kelela, The 2 Bears, CamelPhat, and tons of lesser-known bands and DJs that will make for a weekend of discovery.
If one can describe any festival as "classy," this is the one. Taking place in a coastal resort village near several historical monuments (a castle, an age-old hotel, and an ale house make up some of the surroundings), No. 6 Festival strikes us as an adults' creative retreat where, beyond the pristine imagery on their website, people are actually dancing til 3 am and having a raucous time. On top of that, there's paddle boarding, yoga brunches, comedy shows, wood-fired hot tub sessions, torchlit processions, and carnivals where one can "expect sequined samba headdresses, marching bands, flamboyant feathery backpacks and glittering gowns." For those with refined tastes, there will be plenty of gourmet meals, theater & cabaret, and inspirational speakers, plus - major brownie points for this one - a suffragette tribute by an all-female band.
Headliners & Highlights: Franz Ferdinand, Friendly Fires, Hot Chip, Jessie Ware, Django Django, Luke Solomon.
Garorock is the rowdy, younger summer-camp cousin to the classy creative retreat of No. 6 festival. It's clear from pictures of previous events that this is the place to embrace tent life - or, mini wooden shack life - and the natural elements that come with it. Combining outdoor activities, carnival attractions, and a solid lineup of both rock, mainstream and electronic dance, Garorock is the place to bring your entire crew and act like a kid again. Here, you're free to leave your meticulously-planned Coachella outfits at home and switch off the phone. As a nice touch, there's a heavy dose of native French performers that'll undoubtedly add some auditory finesse to the French countryside ambiance.
Lineup headliners and highlights: Marilyn Manson, Odesza, MGMT & Macklemore, Black Rebel Motorcycle Club, Purple Disco Machine, Parcels, Synapson, Rodriguez Jr., Black Coffee, Polo & Pan
Cue SNL's Stefan, cuz this festival has something for eeevvverrybody. Though the festival itself lacks as distinct of a personality as the others and is a bit more crowded, from a musical standpoint, Mad Cool is stacked: From pop headliners like Dua Lipa and Post Malone, to cult favorite rock bands like Arctic Monkeys, Pearl Jam, and Snow Patrol, to R&B and soul geniuses Leon Bridges, Sampha, and dvsn this festival HAS IT ALL. Heck, we've even got Jack Johnson and Victor Santana at this fest.
Headliners & Highlights: Depeche Mode, Jack Johnson, Dua Lipa, Leon Bridges, Sampha, Depeche Mode, Fleet foxes, Glass Animals, Snow Patrol, Tame Impala, Eels, Arctic Monkeys, Pearl Jam, dvsn, Underworld, Polo & Pan, Jain, Porches.
Boardmaster's Festival runs alongisde the World Surf League qualifying series. It boasts the attendance of international surfers and free viewing of the WSL surf contests - plus surf lessons! We're sure the lineup's heavy emphasis on deep house, dance, and hot pro surfers will draw a crowd of eager beachgoers ready to show off their summer bodies - better stock up on some SPF if that's your thing.
Headliners & Highlights: Years & Years, Becky Hill, Geroge Ezra, MNEK, Annie Mac, MK, Disciples, Kideko, Riton, Claptone, Dusky
6. Amsterdam Open Air - Amsterdam, Netherlands (early June, was June 2-3 in 2018)
You'll feel like you're discovering something new at every corner as you cross bridges, hike through the woods, and party by the water to get to the numerous smaller, themed stages hosted by DJs record labels at Open Air. This festival is focused on the Dutch's much-beloved deep house, disco and tech house - so come prepared to dance rather than wait for an aggressive EDM drop. With all attendees pitching tents together in Gaaskerpark surrounding a late-night campground stage, you're bound to feel a sense of camaraderie with the friends you'll make - and you might even learn to Dutch shuffle after seeing it nonstop.
2018's Headliners & Highlights: Boys Noize, Maya Jane Coles, Hot Since 82, The Him, Detroit Swindle, George Fitzgerald, Jax Jones, Damian Lazarus, Full Crate
Will you be heading to any of these, or other unusual festivals this summer? Let us know - and go prepared with our durable, pocket-friendly shades. With a flat case that clips on to any fanny pack, there's no need for a bulky case to keep them from breaking in the event of a crowded stampede to Hot Chip.